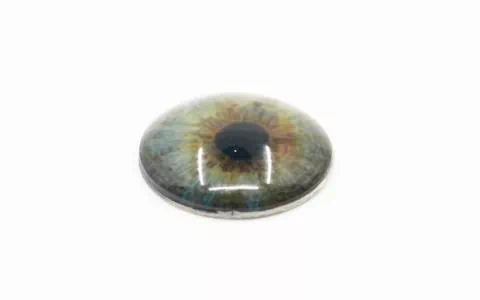 Next Eye iris button perfectly imitate the iris with a dome imitating the cornea; we use it in production of our prostheses, thus being able to offer a perfect and complete product. The printing process of the Next Eye iris button is carried out using 3D printing technology and biocompatible, certified medical materials.
Photographic quality irises
This method allows us to create prostheses with a photographic quality iris print and a network of vessels that perfectly replicate a genuine human eye. As a result, our products look extremely natural and their owners can enjoy greater confidence and freedom in everyday use.
We print a fresh image of the iris onto the "corneas". To this end, we either take a photograph of the iris from a healthy eye for computer reconstruction, or we select a model of the iris from several hundred available shades and patterns. Images of the iris can be taken from our image bank or from a photo of the other eye. This ensures unprecedented quality of the anterior eye segment projection.
Properties of the Next Eye iris button
The iris buttons on our offer significantly speed up production of our prostheses and reduce the manufacture costs. In addition, thanks to them a medical device looks more natural and is more comfortable to use.
The prosthetic laboratory does not need to have special equipment or paint the irises on their own, which is a time-consuming process and, as a result, prolongs the waiting time for the prosthesis.
Our prints are characterised by high UV resistance and resistance to damage. They can be ordered, starting with a single item.